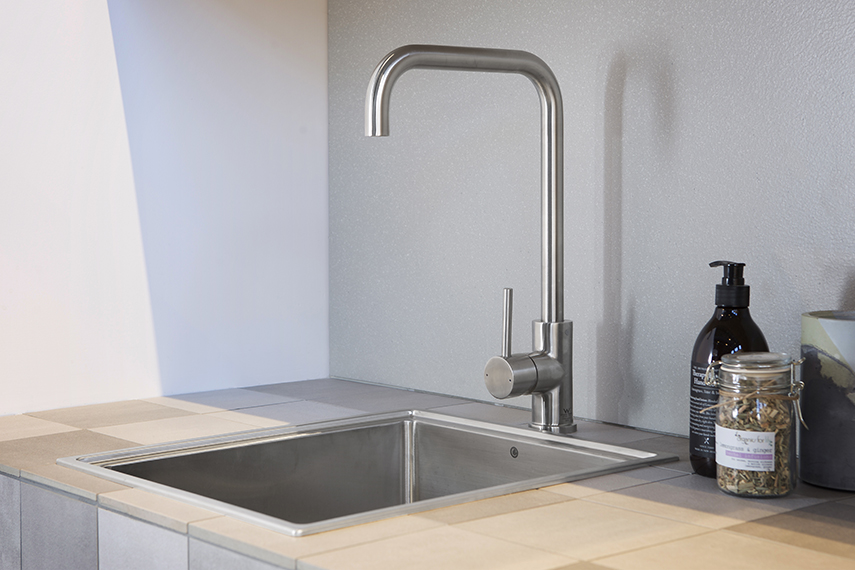 The motivation is always to be involved in an environmentally friendly creative process - one that allows me to use my head, my heart and my hands
Getting to know Mark Tuckey and Axolotl
What are your favourite product/s used in your Caroma capsule and why did you choose them?  
The pot filler tap is a great piece to include in the kitchen, providing convenience while cooking as it removes the need to lift the heavy pots around the kitchen. It also adds an industrial feel to the design. The splash-back in this kitchen has been treated in the industrial Axolotl Concrete Pantheon finish. And the kitchen cabinetry uses the Axolotl TimberLink process, with oak veneer inlayed with a Bronze metal in a custom pattern inspired by the end grain of timber logs.
Describe your approach to design?
The motivation is always to be involved in an environmentally friendly creative process - one that allows me to use my head, my heart and my hands. 
The Mark Tuckey aesthetic has evolved gradually over time, however the philosophy and approach has always remained the same: to create furniture with integrity, simplicity and strength. Furniture that I would love to have in my own home.
What inspires you in your design and how do you come up with your ideas?
I often draw inspiration from my surroundings, so the design style is often relaxed and some describe it as 'quintessentially Australian". The furniture has always been minimal in form, with a focus on quality and function.
This design was a collaborative process with Axolotl. We explored methods of injecting some more pattern into the design by inlaying warm bronze metals onto the timber cabinetry. The concrete splash back was also a really interesting way to break up the design and incorporate the industrial feel without the weight and expense of cast concrete.
What is the biggest single influence on your creative thinking?
I love living on the northern beaches in Sydney where my relaxed, down to earth lifestyle influences every aspect of the pieces designed and created, bringing to life an authentic and quintessential Australian style.

What is your strongest skill? 
I am extremely passionate about what I do, and this combined with my strong vision and determination to succeed has kept the business going for over 25 years.

What are you currently fascinated by and how is it feeding into your work? 
I love timber.  Every piece is unique and different in colour texture and tone.
I am also enjoying working on collaborative projects such as this one with Caroma + Axolotl. As a furniture designer it is a great opportunity to explore and design with new products and processes.

What are you passionate about besides your work? 
My daughters Chilli and Indigo, and like the majority of Australians, I love to entertain. I am reminded why I love designing furniture, especially dining tables, as they are something that brings families and friends together and make a house feel like a home.
Products used in Mark and Axolotl's design